As Hurricane Lane, currently a Category 2 storm, makes its way towards Hawaii, our priority today is supporting Par Pacific Holdings, which is temporarily shutting down its 93,500 barrel per day refinery in Kapolei, on the island of Oahu, to ensure the safety of workers, and the community and environment surrounding the facility. Par currently expects to resume normal operations as soon as this weekend.
As we saw last year with Hurricanes Harvey, Irma and Maria, storms of this magnitude and the wind and water they unleash can have a significant impact on the operations of refineries and other critical infrastructure that ensure the efficient and reliable delivery of fuel supplies.
Hawaii's petroleum supply chain relies on an integrated network of midstream infrastructure – including storage tanks, barges and ports – to move product and reach consumers. According to the EIA, all products move through and from Honolulu (see how fuel moves around the islands in the below EIA graphic).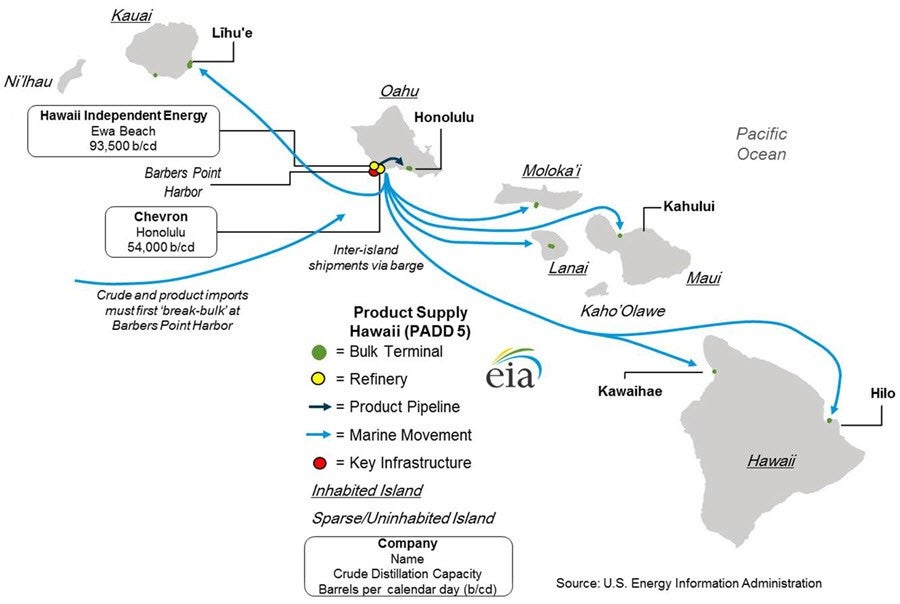 Ports play a critical role in Hawaii's energy security, facilitating the movement of refined petroleum product by barge to offloading terminals on each island that is then stored and/or distributed for power generation, industrial use and drivers filling up at the pump.
Par employees are working diligently to carefully ensure the safety of their facility. On the mainland, we are continuing to monitor this situation closely and will provide necessary updates including any change in refinery status. To learn more about hurricane preparedness or how the country's fuel supply chain functions, you can visit AFPM's midstream infrastructure report.