Memorial Day weekend is dedicated to commemorating all the men and women who gave their lives while serving in our country's armed services. Across the river from our nation's capital, flags are placed on graves in Arlington Cemetery, and towns across America hold parades and other events to honor our servicemen and women.
This weekend is also the kickoff for the summer vacation season and according to The Automobile Association of America (AAA), it will be one of the most heavily traveled weekends in history. The low cost of gasoline is likely the main contributor to the record number of people hitting the roads. Although prices have increased since February, they're still low, relative to recent years. Based on Monday's (May 23) gasoline prices published by the Energy Information Administration, travelers this weekend may see the lowest prices at the pump in 11 years - mainly due to the fall-off in crude prices.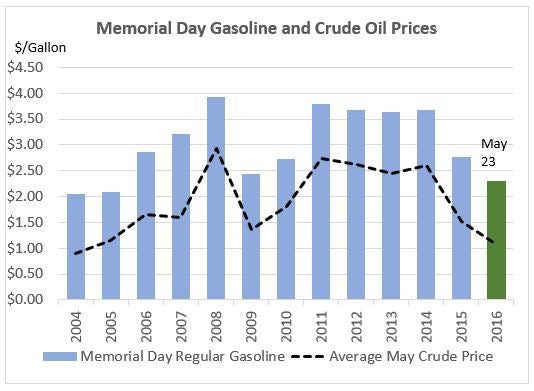 Source: EIA
And this drop in prices is definitely spurring higher travel numbers over the holiday weekend. The Automobile Association of America (AAA) estimates that more than 38 million people will be on the roads this Memorial Day weekend - the second-highest Memorial Day travel volume on record and the most since 2005. The AAA also adds that 700,000 more people will travel this year than last year, spurred on by the lower gas prices.
Have a safe and fun Memorial Day weekend, and don't forget to honor our servicemen and women, they're the reason we're free to move about our country!