EPA's intent to expand the Risk Management Program (RMP) is unwarranted since the current regulation is effective in preventing serious injury and offsite releases. The small number of incidents referenced in the agency's Request for Information (RFI), a precursor to a formal proposed rulemaking, as the justification for the proposal either occurred before the RMP regulation was promulgated, or were the result of a facility not following applicable regulations, which was the case in the tragic West, Texas incident. Nowhere in the RFI does EPA provide evidence that the existing RMP regulation is deficient.
EPA's emphasis on requesting information for "additional" regulation on petroleum refineries is also unsupported. The petroleum refining and petrochemical industries are committed to providing the safest facilities for our employees and surrounding communities and are proud to say that they are safer than they have ever been.
Over the last 25 years, AFPM members have reduced the rate of fatalities and severe injuries within their facilities by more than 87 percent. In fact, our industry's injury and illness rate also currently remains 87 percent lower than the average rate across all manufacturing sectors and is significantly lower than many non-industrial sectors. Despite this record, we continue to strive for zero incidents. As an industry our operations are extensively regulated through several government agencies—OHSA, DHS, DOT and EPA—and we maintain a high level of commitment to adhering to their rules and regulations in regard to facility safety and security.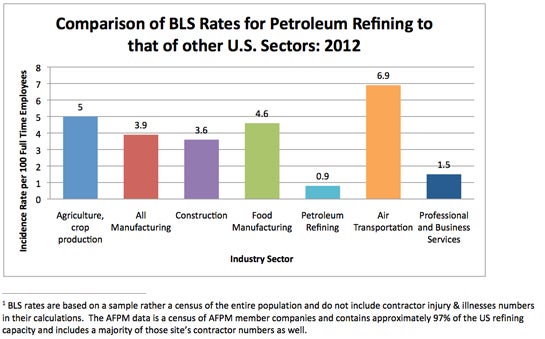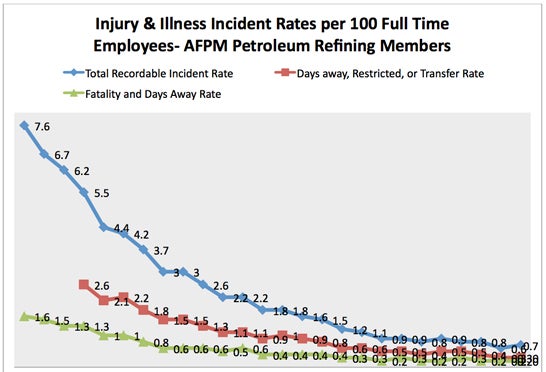 This RFI is yet another highly irresponsible attempt by EPA to expand its authority by creating unnecessary duplication and at times conflicting regulations. Instead of targeting petroleum refiners and looking to unnecessarily expand its authority into areas under OSHA's jurisdiction, EPA should focus its resources on identifying the outliers—like the facility in West, Texas—that are not following or are unaware of applicable regulations.